Dining and other fun things to do
Northern Michigan is home to an increasingly varied and sophisticated culinary culture with a strong emphasis on local ingredients.
We are surrounded by award-winning restaurants, wineries, distilleries, artisan bakeries, dairies and farm markets. Midwest Living magazine recently placed Traverse City in the top two on its list of the region's best "food towns".
We at Bouwman Realty Group have listed some of our favorite restaurants and pubs. We have also provided you with some useful links to enhance your fun and happy life in Northern Michigan.
Bon appetite!

Restaurants
Benzie County
The Road House
The Roadhouse Mexican Bar & Grill have been a year-round mainstay in Benzie County since 2000. Chef Miguel Roman drew on his childhood in northern Mexico and love for its food to develop exclusive recipes that draw visitors and locals back.
Located on US-31 at the top of the hill in Benzonia, the Roadhouse is steps away from beautiful Crystal Lake and easy to access from Crystal Mountain Resort, Frankfort on Lake Michigan, and Traverse City. Free parking is available on the street and in back of the restaurant.
1058 Michigan Ave.
Benzonia, MI 49616
231-882-9631
theroadhouse.com
---
Storm Cloud Brewing Company
Very fun cool spot! Amazing award winning beer and tasty menu. "Belgian Inspired /Michigan Made"
303 Main Street
Frankfort, MI
231-352-0118
---
The Fusion
Va and Bobbie serve Pan-Asian cuisine married with American flair. Their cutting edge techniques will make even old favorites new again. Come get a 5-star experience in this sexy, waterfront restaurant. The Fusion boasts one of Michigan's largest sake list, most innovative small plates, decadent dessert bar, and coolest clientele.
300 Main Street
Frankfort, MI 49635
(231) 352-4114
the-fusion.com

Grand Traverse County
The Hofbrau Steak House
Located within walking distance of world renowned Interlochen Center for the Arts, Started in 1909 The Hofbrau Steak House & American Grille offers Steak, Ribs, Seafood, Pasta and the best Darn Pizza Period. With a rustic ambiance, fantastic food, a creative menu, daring dinner specials, and sensational desserts. It features a huge selection of beers 52 on tap LARGEST SELECTION IN THE NORTH. Great wine selection by the glass or bottle and a fully stocked bar. On Sundays the "Blues Brunch" includes a carving station featuring slow roasted Prime Rib, omelet station, homemade Belgian waffles, chocolate dipped strawberries, home desserts and pastries, a Bloody Mary's and Mimosa's. Check out their weekly specials.
In the bar area there are three 80 inch LED screens to view your favorite sporting events. The Hofbrau is the perfect spot for your holiday party, rehearsal dinner, office function or any other special event. Recently named A Culinary Institution By The Northern Express. Gift Cards are always available.
2784 M 137
Interlochen, MI 49643
(231) 276-6979
hofbrausteakhouse.com
---
Amical
Located in the heart of downtown Traverse City overlooking West Grand Traverse Bay, Amical has been offering eclectic European cuisine to their dining patrons since 1994.
Order from creative and revolving menus, fresh selections prepared in our open kitchen and served in the cozy dining room or on our vibrant street-side patio. Experience the local flavor, dedicated service and consistent reputation that have kept Amical a favorite for 20 years. Amical is Traverse City's downtown bistro!
229 East Front Street
Traverse City, Michigan 49684
(231)941-8888
Amical.com
---
Poppy Cocks
Located on Front Street in beautiful downtown Traverse City, Poppycock's provides a casual contemporary atmosphere. A unique, comfortable, upbeat place to dine. Amazing, delicious, creative food and spirits! They have great entertainment too.
128 East Front Street
Traverse City, MI 49684
(231) 941-7632
poppycocks.com
---
Centre Street Café
Love this little café! Awesome lunch spot! Everything is fresh and homemade. Very extensive, creative menu. Quaint and fun!
1125 Centre Street
Traverse City, MI 49686-3404
(231) 946-5872

Leelanau County
http://www.sleepingbeardunes.com/eat/
Apache Trout Grill
One of our favs! Right on the bay complete with beach bar. After more than twenty years, Mike, his wife Sheila, and the Apache staff are still serving up those Traverse City favorites that have made them so famous. Signature dishes include, award winning BBQ ribs, fresh seafood, hand-cut, aged, choice steaks, and their amazing homemade key lime pie. Apache Trout Grill has an atmosphere of warmth that makes a perfect evening with friends or a romantic meal for two. So, stop in for a glass of one of the outstanding local wines. You can also take advantage of the patio and enjoy an ice-cold beer to relax. The breath-taking view over the bay is sure to sweeten your experience.
13671 S. West Bayshore Dr.
Traverse City, MI 49684
231-947-7079
www.apachetroutgrill.com
---
Art's Tavern
Locally owned and operated, where the retro is authentic, Art's Tavern remains one of the last true "Up North" corner hangouts. Serving breakfast, lunch and dinner, 360 days a year from 7:00 a.m. – late. "Glen Arbor's Original Gathering Place". In one form or another, for over 80 years Art's has been serving up cold beverages, great food and good times.
6487 Western Avenue
Glen Arbor, Michigan 49636
231-334-3754
www.artsglenarbor.com
---
Boonedocks!
Just two miles from the Sleeping Bear Dunes National Park, Boonedocks is a great family destination for dining inside or outside in a cozy, rustic "Up North" atmosphere. Boonedocks All-American menu offers a variety of steaks, fish, soups, salads and sandwiches. During the summer season check out the shops on the deck including Sleeping Bear Sweets which offers a large variety of ice cream, candy and Boonedocks logowear. Hang out on the deck and hear live local music every night of the week!
5858 Manitou View
Glen Arbor, MI 49636
(231) 334-6444
boonedocksglenarbor.com
---
The Bluebird Restaurant & Bar
For over 80 years, the Bluebird has been the gathering place in Leland for locals and tourists alike. From the casual 100 seat bar, to the more elegant, scenic dining room on the banks of the Leland River, the Bluebird tradition of excellence is always apparent. Long known for the finest whitefish and perch in Northern Michigan, the Bluebird is constantly striving to raise the level of quality across the board, to include the finest steaks available, their own fresh pasta, wood smoked ribs, and the freshest, flown-in seafood. The menu contains many timeless favorites, and the nightly specials offer their chef's the opportunity to stretch their culinary "legs" and try new ingredients and cooking styles. The finest quality wine, beer, and spirits are also a priority. Of course they take great pride in our devoted, trained, professional staff, some of whom have been with us for over 30 years! A trip to the Bluebird will reward you with a great meal and a great time, at a reasonable price.
102 River Street
Leland, MI 49654-5039
(231) 256-9081
www.leelanau.com/bluebird
---
Boone's Prime Time Pub
Boone's Prime Time Pub has been a long time favorite eatery for locals and vacationers in Suttons Bay. From its quintessential stone and log cabin look to the selections of hand-cut steaks, fresh fish, handmade burgers & its famous jumbo onion rings, the Prime Time Pub says, "relax, you're up north."
102 N St Joseph
Suttons Bay, MI 49682
231-271-6688
www.4gr8food.com
---
Labecasse
La Becasse has been serving French country food in its intimate dining room in Burdickville for over 30 years. It is about a 30 minute drive from Traverse City and is located near Glen Lake in between Glen Arbor, Empire and Maple City. It is a gem of a place. Fine food and wine!
9001 S Dunns Farm Rd
Maple City, MI 49664
(231) 334-3944
info@restaurantlabecasse.com

Northern Michigan Wineries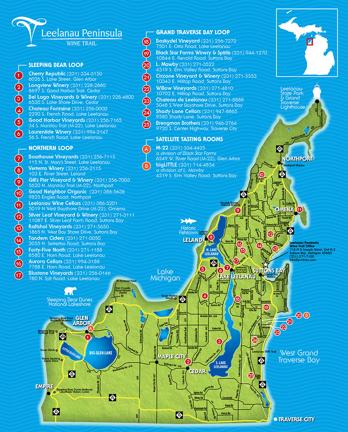 http://www.lpwines.com/wine-trail-map/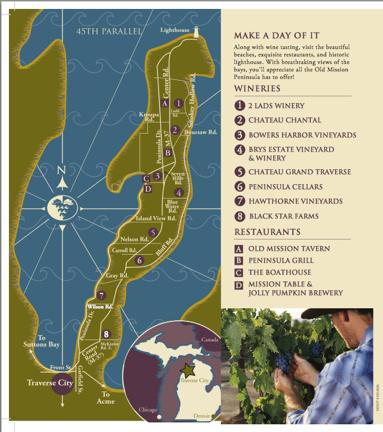 http://www.wineriesofoldmission.com

Micro-Breweries
http://mynorth.com/northern-michigan-food-drink/northern-michigan-beer/
froth-in-the-brew-world/
Distilleries
www.traversecity.com/distilleries-409/
Farmers Markets
mynorth.com/northern-michigan-farmers-markets/
Have Fun!