Big & Little Glen Lake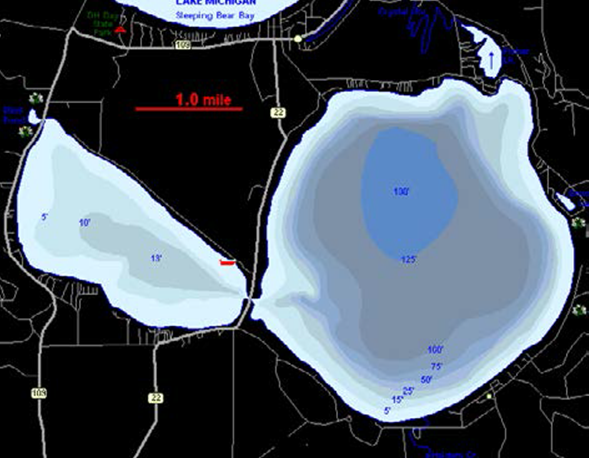 Glen Lake is a lake located in Leelanau County near Lake Michigan. Several villages lie along or near its shore, including Burdickville, Glen Arbor, and Glen Haven. The lake actually consists of two large bodies of water connected by a narrow channel (called the "Narrows") crossed by M-22 bridge, with the larger body to the east referred to as "Big Glen Lake" and the smaller body to the west as "Little Glen Lake". The total surface area of the two bodies are 4,871 acres and 1,415 acres, with maximum depths of 130 feet and 13 ft respectively. Big Glen Lake is nearly perfectly round, while Little Glen is more elongated. The lakes empty into Lake Michigan via the shallow Crystal River which winds through Glen Arbor. The lake is located in a spectacular setting of wooded rolling sand hills just east of the Sleeping Bear Dunes National Lakeshore. It is considered by many to be one of the most beautiful lakes in the world. Its waters, filtered by the underlying and surrounding sands, are remarkably clear and pure, and glow with an iridescent indigo blue. Its beauty, purity, and lack of large waves make it a popular lake for vacationers, with opportunities for boating, swimming, and fishing. Sportfish present include yellow perch, smallmouth bass, northern pike, brown trout, and lake trout.
---

Sorry we are experiencing system issues. Please try again.