Torch Lake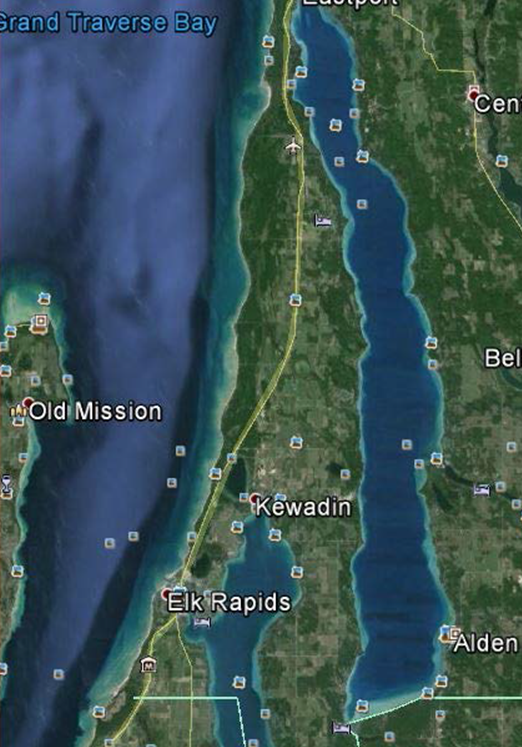 Torch Lake at 19 miles long is Michigan's longest inland lake at approximately 18,770 acres Torch Lake is Michigan's second largest inland lake. There are several townships nearby including Torch Lake Township, Central Lake Township, Forest Home Township, Helena Township, and Milton Township and Clearwater Township in Kalkaska County. Several villages and hamlets lie along its shore, including Alden, Eastport, Clam River, and Torch Lake. The lake is about 17 miles northeast of Traverse City and is separated by narrow strips of land from both Grand Traverse Bay on the northwest and Elk Lake at the southwest end. The lake is about two miles wide. It has a maximum depth of 285 feet and an average depth of 111 feet, making it Michigan's deepest inland lake. It is a popular lake for fishing, featuring lake trout, rock bass, yellow perch, smallmouth bass, muskellunge, Pike, ciscoes, brown trout, rainbow trout, and whitefish.
Torch Lake is part of a watershed that begins in northern Antrim County with Six Mile Lake, which is connected by the Intermediate River with Lake Bellaire. The Grass River flows from Lake Bellaire into Clam Lake, which in turn drains into Torch Lake via the short Clam River. Torch Lake itself is drained by the Torch River, which flows into Lake Skegemog, which opens into Elk Lake. Elk Lake flows into the east arm of Grand Traverse Bay at Elk Rapids. This watershed is popularly known as the Chain of Lakes.
---
Sorry we are experiencing system issues. Please try again.