Lake Skegemog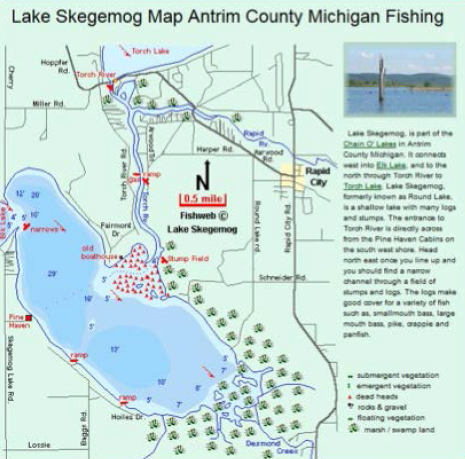 The 2,562-acre Lake Skegemog is part of the lower chain of lakes in Antrim County in northeastern Michigan. The lake connects to Elk Lake to the east and the Torch River to the north to form a part of the chain. The collection of connected lakes, which also includes Lake Michigan, supports many species, creating diverse fishing opportunities for anglers at Lake Skegemog.
Lake Skegemog is part of a watershed that begins in northern Antrim County with Six Mile Lake, which is connected by the Intermediate River with Lake Bellaire. The Grass River flows from Lake Bellaire into Clam Lake, which in turn drains into Torch Lake via the short Clam River. Torch Lake itself is drained by the Torch River, which flows into Lake Skegemog, which opens into Elk Lake. Elk Lake flows into the east arm of Grand Traverse Bay at Elk Rapids. This watershed is popularly known as the Chain of Lakes.
---
Sorry we are experiencing system issues. Please try again.